Creating an enclosed carport
Your carport is an outdoor facility that evolves according to your needs and the seasons. If you want to provide more security, more protection from the weather and to enjoy your carport as a pergola during the summer months, you might want to think about closing it off, either completely or partially.
Permanent enclosure
For this, there are several solutions:
A breeze block or brick wall. This is a drastic yet effective solution, but it may not fit in with the rest of the carport. We advise you to have it built by a professional.

A wooden partition or panelling. Regular maintenance is required for this type of material, which, although resistant, has a number of weaknesses.

Sheet metal panelling, inexpensive, but not particularly strong.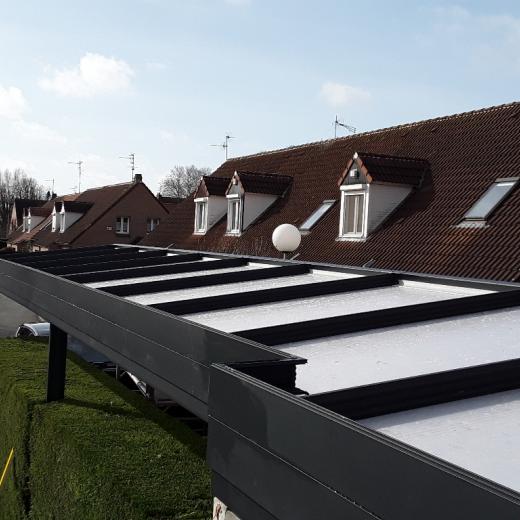 Temporary enclosure
There are several ways to enjoy your carport in all seasons:
Tarpaulin is practical for rainy days or when you want to add shade to your carport. Although inexpensive, it is also weak and flimsy, and may need to be assembled and disassembled several times.

A mosquito net can be a good alternative if you want to be protected from pests but still let light in when using your carport as a pergola. However, it has the same disadvantages as tarpaulins in terms of strength and installation.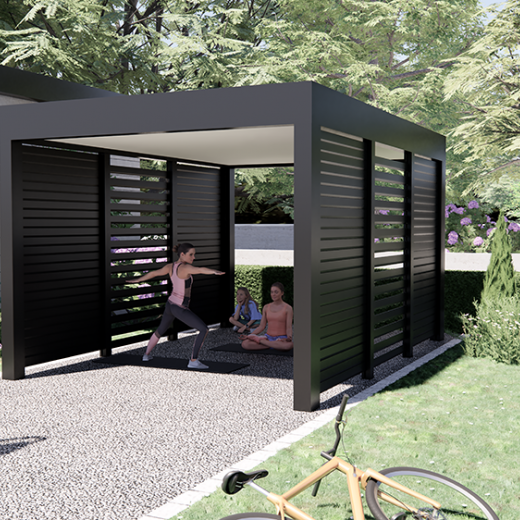 Akena's solution
In order to meet your requirements in terms of strength, sturdiness, efficiency and protection in all seasons, Akena has developed a whole range of privacy screens exclusively for its 100% aluminium carports.
This permanent installation allows you to close your carport off as much as you like, while letting the light in with our openwork screen. We also guarantee maximum protection with our full screen.
The different colours and wooden look option, all certified by QUALIDECO, provide an effective and stylish solution for your carport.