These two outdoor facilities have the same purpose, but are very different in terms of materials, dimensions, budget... we are here to help you make the right choice.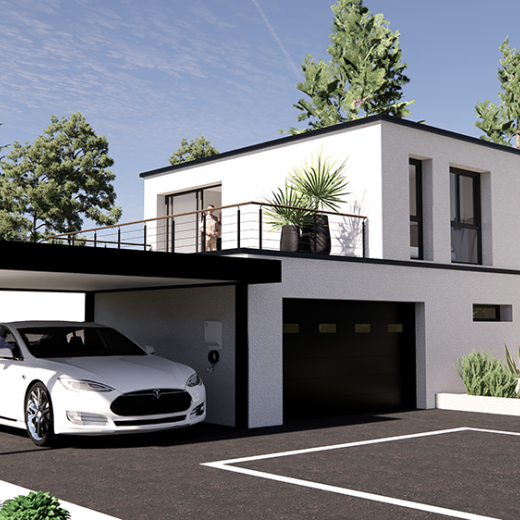 Carports and garages
A carport is built on a concrete slab or blocks, held by two posts (if leaning against a wall) or four posts (if free-standing). It can be used to cover and protect one or two vehicles, from small vehicles such as cars to large motor homes. Installing a carport is relatively straightforward.
A garage, on the other hand, is a solid structure, usually made from breezeblocks or concrete, and is completely closed off. In most cases, it is built against the house. It also protects against the weather, but it is fully enclosed. Building a garage can take several months.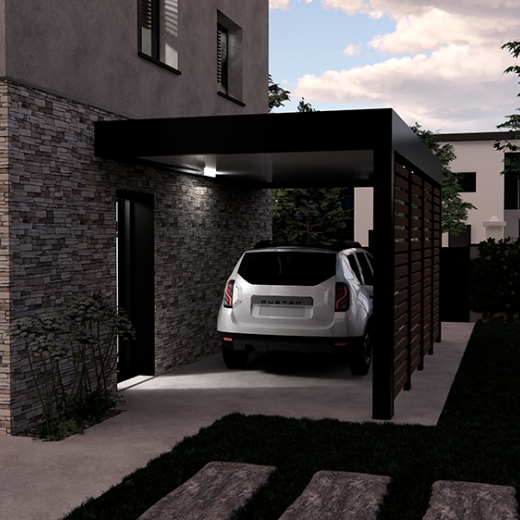 Carport: features & characteristics
Carports can be partially enclosed with features such as privacy screens, but are not completely waterproof. But they are quicker to drive into than a garage. Other options, such as LED lighting, available from AKENA, can be added to your carport to make it just as functional as a solid garage. The roof can be sloping or flat.
In order to choose the right carport, you need to think about the material: aluminium carports do not require any maintenance, unlike carports made from wood or other metals.
On the practical side of things, a carport only requires minor construction work, whereas a garage requires major, sometimes lengthy and costly construction work. For a lower cost, and a flawless modern design, the carport meets all expectations.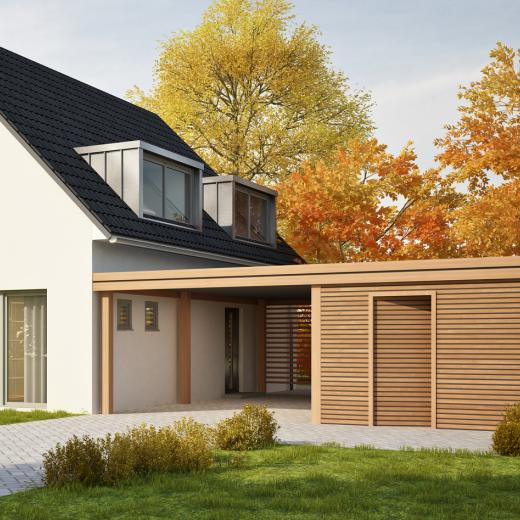 Garage: features & characteristics
Having a garage can be like having an extra room in your home. However, it requires specific construction works, such as insulation and complex structural elements, and these can be quite expensive.
But there is plenty of space for parking, fully insulated and enclosed, with a door to access the garage. As with the carport, it can also be used to store outdoor equipment.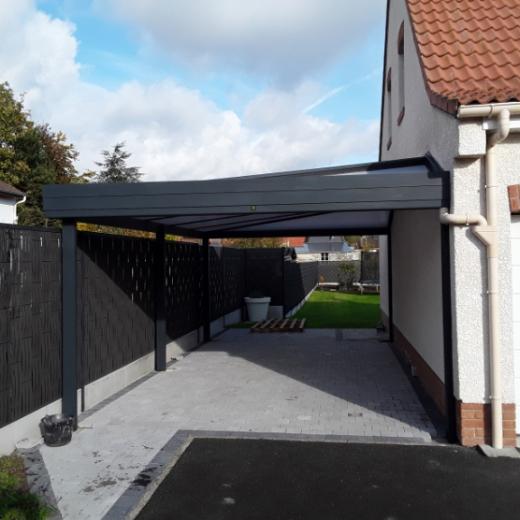 In summary
Garages and carports have similar characteristics:
You will need to apply for planning permission for a surface area of more than 20m2
They both protect you and your vehicle from the wind, rain, sun, snow, hail, etc.
They provide a space for storing outdoor equipment
They can both have a flat or sloping roof
However, a garage:
Provides better protection against theft and robbery
Is more expensive
Takes longer to plan and build
And a carport:
Is cheaper
Is easier to access
Is quick and easy to install