Other ways to use your carport
When your vehicle is not parked inside your carport, it can be used for many other things. Beyond being a simple car, van or motor home shelter, it serves as a garage, while adding extra space and value to your home.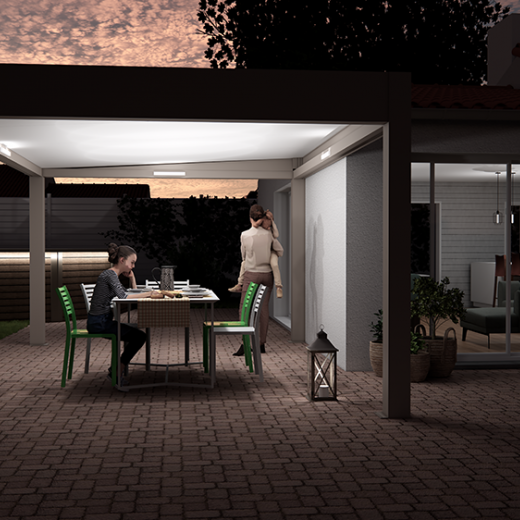 A space for socialising
Have you considered entertaining under your carport? You can also use your carport as a pergola. These two constructions are very similar and can be used in the same way. Their large spaces provide endless possibilities.
You can use your carport to eat outside in the shade without worrying about the sun and the heat. The carport roof provides excellent protection from the sun during the summer months. It will also protects you from light showers: no need to bring in the furniture in a hurry. And with the optional integrated LED lighting, you can enjoy the long evenings under your carport. Finally, the AKENA privacy screens, available as an option, provide additional protection against prying eyes.
As you can see, your carport can be used for a whole range of things.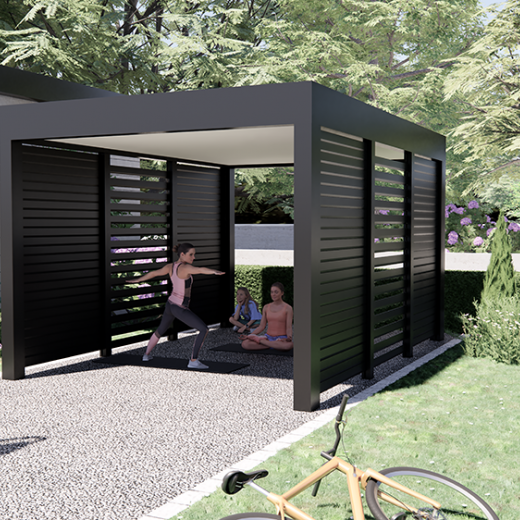 A space for relaxing
Have you always wanted a shaded swimming or spa area? But you don't have the right ground for it? Then a carport is perfect for you.
The large space inside our carports, together with your concrete or tarmac floor, makes it easy to set up temporary swimming pools, inflatable spas or Jacuzzis. Children and parents alike are sure to be satisfied! You can enjoy a moment of fun and happiness in complete privacy. Our privacy screen option allows you to close off parts of your carport, either completely or partially, letting in natural light.
Have you thought about the roof of your carport? This will prevent any leaves or branches from falling into the pool. Ideal for enjoying the pool without having to clean it too often.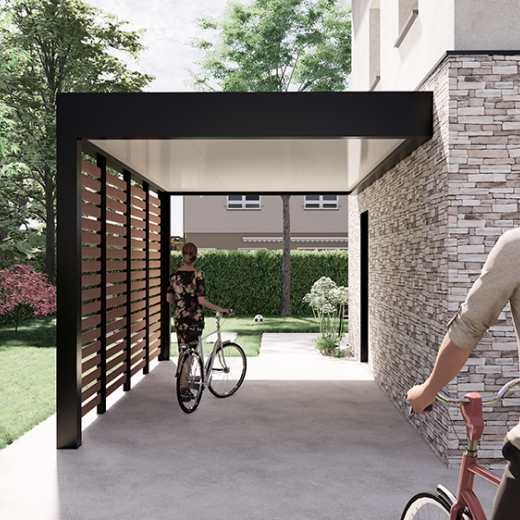 A space for working
If you've always wanted to work outside and be in the fresh air, then a carport is just what you need. With its large surface area, you have plenty of space to setup a workbench.
All this without having to worry about major, time-consuming, expensive and complex construction work to build a garage. You will be able to tinker outdoors while being protected from the weather and the heat thanks to the carport roof and/or privacy screens.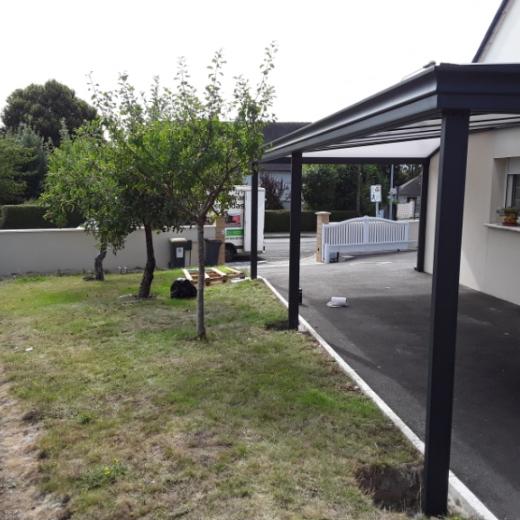 A storage space
The way in which you use your carport changes with the seasons. In winter, you can store all your summer equipment, such as garden furniture, bicycles, barbecues, pool inflatables... and all this in a protected and enclosed space. The carport protects your equipment from damage. Not forgetting winter storage for your plants, which, stored under the carport, will not be affected by cold or frost.