Your carport can be positioned against your house with 2 or 3 posts, or on its own with 4 or 6 posts. Here are the different characteristics.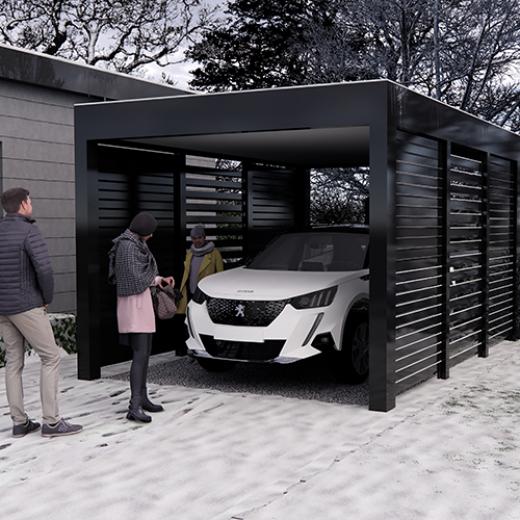 Lean-to carports
This type of carport is fitted against a wall, usually a wall with a door (or close to it), in order to provide direct access to the home. Lean-to carports come with 2 or 3 posts. At Akena, we offer a sloping roof for the canopy carport and a flat roof for the flat roof carport. Lean-to carports have several advantages:
Installed near an entrance, your carport means you don't have to walk in the rain,

Provides more security, with the vehicle close to your home,

You can install a socket or electricity supply next to your carport, which is ideal for charging an electric car or plugging in any other electrical accessory or equipment,

Create a storage space for your equipment near your home,

Bicycles can be stored and parked safely,

It can also be used as a space to relax, work or enjoy meals. Therefore, being close to the house is more convenient.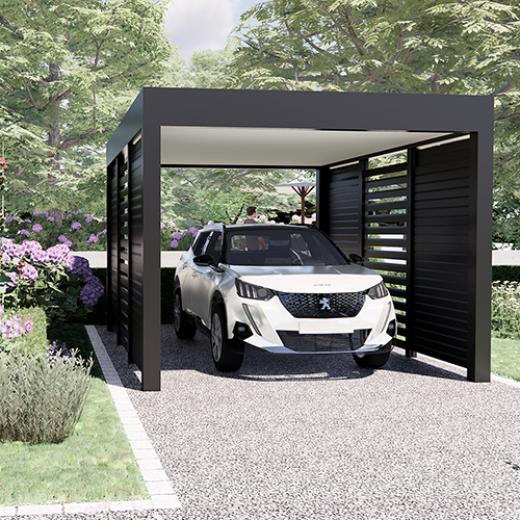 Free-standing carports
Unlike a lean-to carport, a free-standing carport stands alone. It isn't installed against a wall and is supported by 4 or 6 posts. Free-standing carports have many advantages:
Ideal for a camper van or motor home: the large size of the vehicle does not detract from the landscape, especially when the carport is placed at the bottom of the garden,

Perfect for large areas or big gardens,

It allows you to park near the house without taking up space right next to it,

Can be installed anywhere, without walls or constraints, using concrete blocks,

Replaces a garage,

Becomes an added design feature to your garden